MODERN FINANCE CHAIN
MF Chain is building the future of blockchain which begins with our consumer-merchant payment solution and rewards program. Fundamentally, our goal is to expand cryptocurrency utility to the point of ubiquity. We are helping cryptocurrency reach beyond being merely an investment, trading or speculative tool. Consumers, merchants, and enterprises both large and small will now be able to capitalize on the convenience and security that cryptocurrency and blockchain provide.
MF Chain builds upon the value of zero merchant fees while offering innovative rewards for consumers and merchants. MF Chain is specifically designed to build value for all parties involved in merchant transactions. We are helping to build a digital economy where consumers will have the ability to buy products and services via any cryptocurrency.
The current merchant payment system market is projected to exceed $1 trillion by the year 2019. This projection is supported by a growing consumer preference for digital payment systems and the widespread increase of using mobile devices to pay for goods and services.
OUR VISION
To create a digital economy where consumers can buy goods and services with any cryptocurrency at their favorite merchants. To have a place where visionaries and creators can collaborate to launch innovative distributed applications in a world that relies on trust-less transactions in any currency of their choice. A platform where developers are supported with multi-language compatibility and a library of smart contracts designed to promote rapid development and deployment. An ecosystem that embraces all block chains into a digital utopia.
Modern Finance Chain is helping the world adopt crypto as a currency by creating a global digital economy. Starting with a payment solution and rewards program for merchants and consumers that makes it easy to embrace cryptocurrency payments.
MF Mainnet will be like no other blockchain, catapulting its capabilities directly into the stream of commerce and allowing ICO and dApp projects to tap directly into this wealth. With a dBFT/POS hybrid consensus method, MF Mainnet will achieve consensus with minimal energy consumption and in an eco-friendly manner. Using an incentivized masternode offering, MFM will achieve decentralization with thousands of globally distributed nodes
The greater vision of Modern Finance Chain is the MF Mainnet with intelligent features.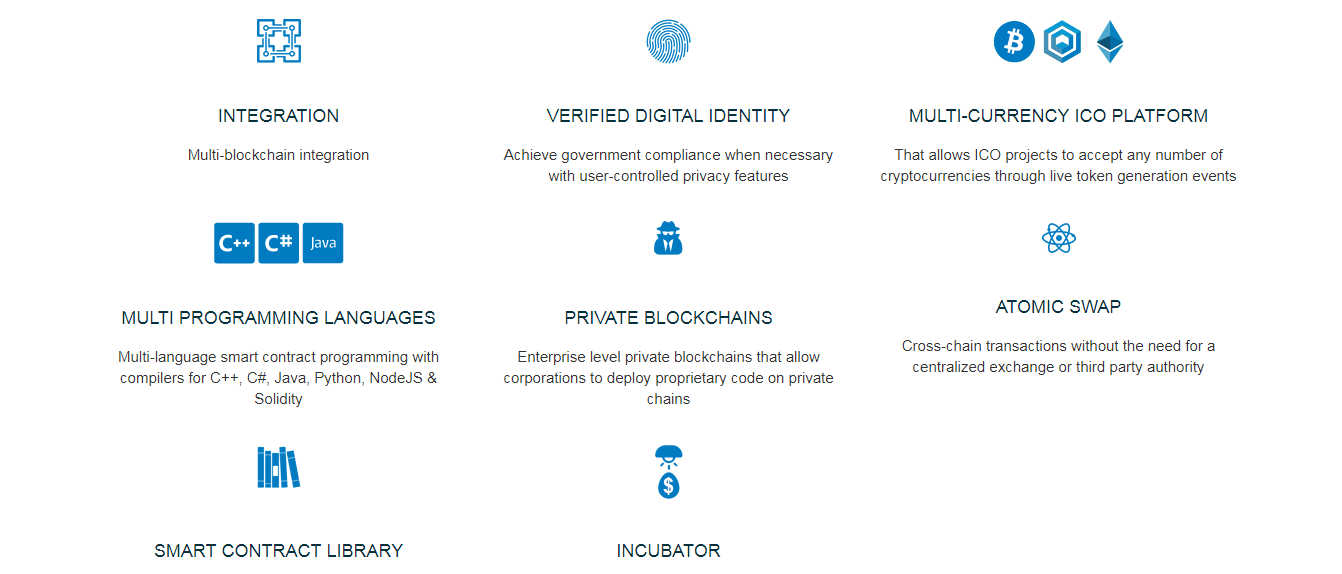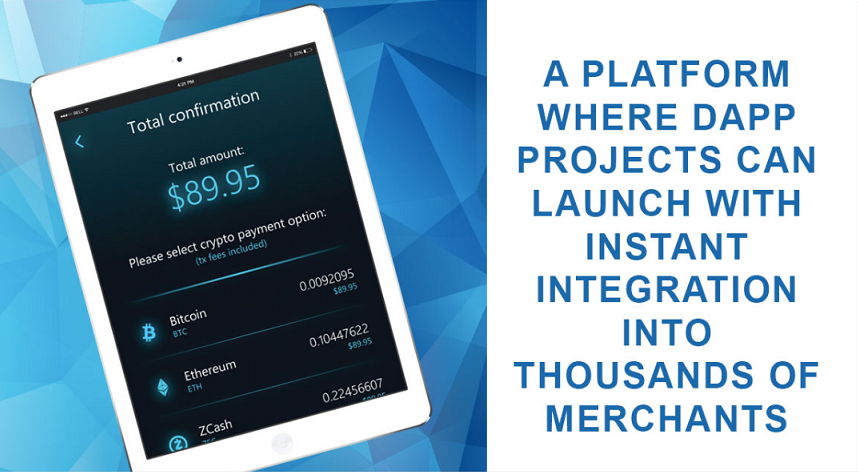 Modern Finance Chain (MF Chain) plans to raise between 4,500 and 33,000 ETH Tokens during the Pre-ICO and ICO. All ICO transactions are completed via smart contract transfer. Only whitelisted participants will have the ability to contribute during the ICO. Any contributions sent from addresses not on the whitelist will be rejected by the ICO smart contract.
MF Chain will only have access to 50% of the funds collected during the first half of 2018. These funds will be used for development, operations and marketing. Unspent funds will be unlocked in two stages. The first stage will unlock after the full release of the merchant processing platform. The second stage will unlock after the full release of MF Mainnet.
To participate in the MF Chain ICO, prospective platform users will need to be approved and added to the whitelist. MF Chain plans to run two separate whitelist campaigns allowing users late to learning about MF Chain to participate. All prospective participants can apply during any whitelist stage (example: participant wanting to contribute during ICO stage can apply during the first whitelist stage; this example is encouraged).
Depending on level of interest, the second whitelist stage may end early. All members will be processed through MF Chain's KYC requirements. MF Chain has partnered with Identity Mind and will be reviewing all submitted information on OFAC, PEP, PSFI, EU and Freeze Lists. Depending on level of contribution, government-issued ID submission may be required. MF Chain complies with all local restrictions and limitations; therefore, residents of certain countries will not be able to participate.
MF Chain ICO Dates
Private Offer: April 4th - April 25th
Presale: April 25th - May 15th
ICO: May 15th - June 15th
ICO Caps and Timetable
Soft Cap: 4,500 ETH (with built in smart contract refund feature if not obtained)
Hard Cap: 33,000 ETH
The total number of MFX tokens is capped at 521,000,000. 1 Ether = 8,500 MFX tokens.
ICO Token Price: 1 Ether = 8,500 MFX Tokens
33,000 Ether Total ICO Hard Cap
Minimum Contribution – 0.1 Ether
Maximum Contribution – 200 Ether
Presale Token Price: 1 Ether = 10,150 MFX Tokens
5000 ETH Hard Cap
Minimum Contribution – 5.0 Ether
Maximum Contribution – 200 Ether
Public Tokens
Presale & ICO – 57% (301M)
Airdrop & Incentive Programs – 1% (5M)
Devs & Advisors – 8% (40M)
Merchant Incentive Program – 15% (75M)
Locked tokens to support development & marketing – 19% (100M)
Future development and marketing tokens will be locked according to the following schedule:
50% unlocked on random date: Q2 2019
50% unlocked on random date: Q2 2020
Initial Circulating Supply (max): 306,000,000
Max Supply: 521,000,000
Multi-signature escrow is a way of locking funds allocated in the ICO until specific conditions are met. This method allows for a guarantee to ICO contributors that certain development milestones in the project are achieved. The team will not be able to spend the funds raised during the ICO until the obligations for development are fulfilled. 50% of ICO funds will be locked. 20% of the funds will be locked until the MF Chain Payment System is fully developed and released. 30% of the funds will be locked until the release and deployment of MF Mainnet.
This escrow arrangement is handled directly on the blockchain through the MFX ICO smart contract. Funds are distributed and locked accordingly, live for each ICO contribution transaction.

We have a team is comprised of high level programmers, mathematicians, cryptographers, PhDs and computer scientists.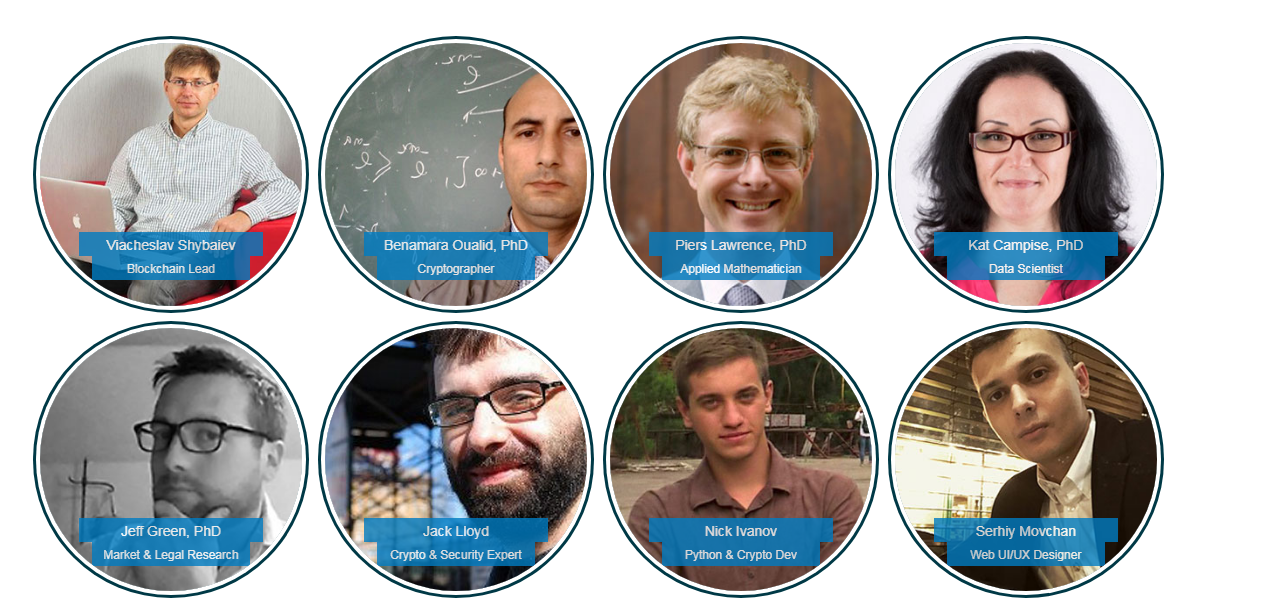 We are currently recruiting Ambassadors for our exclusive brand management team. Think you have what it takes to join the Ambassador team? Click below to apply.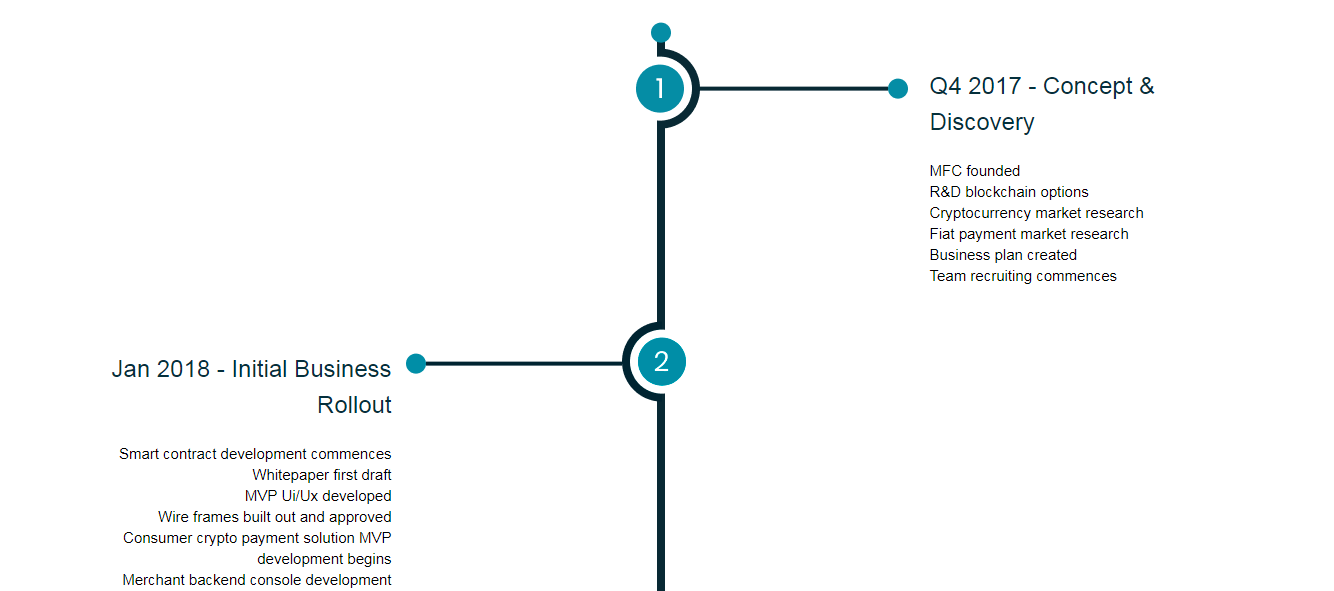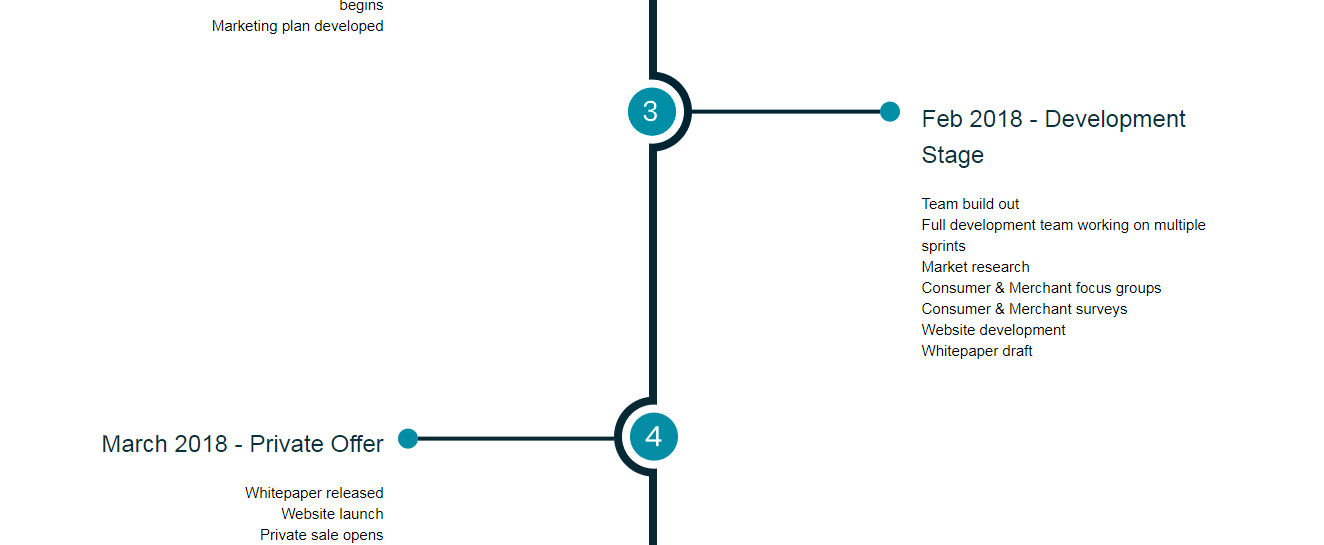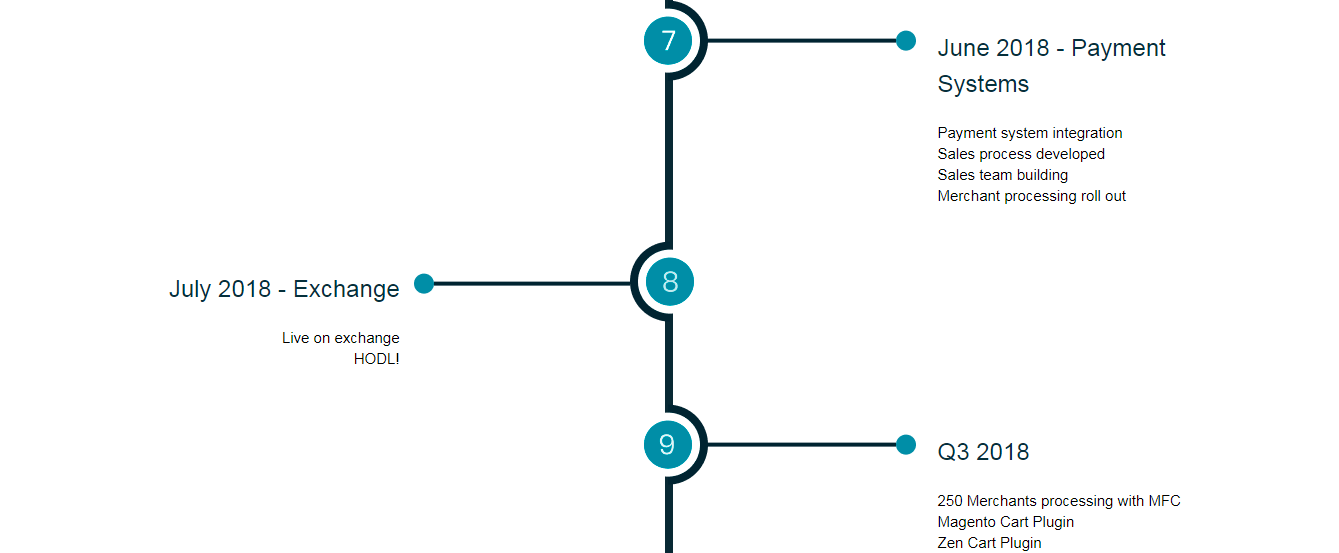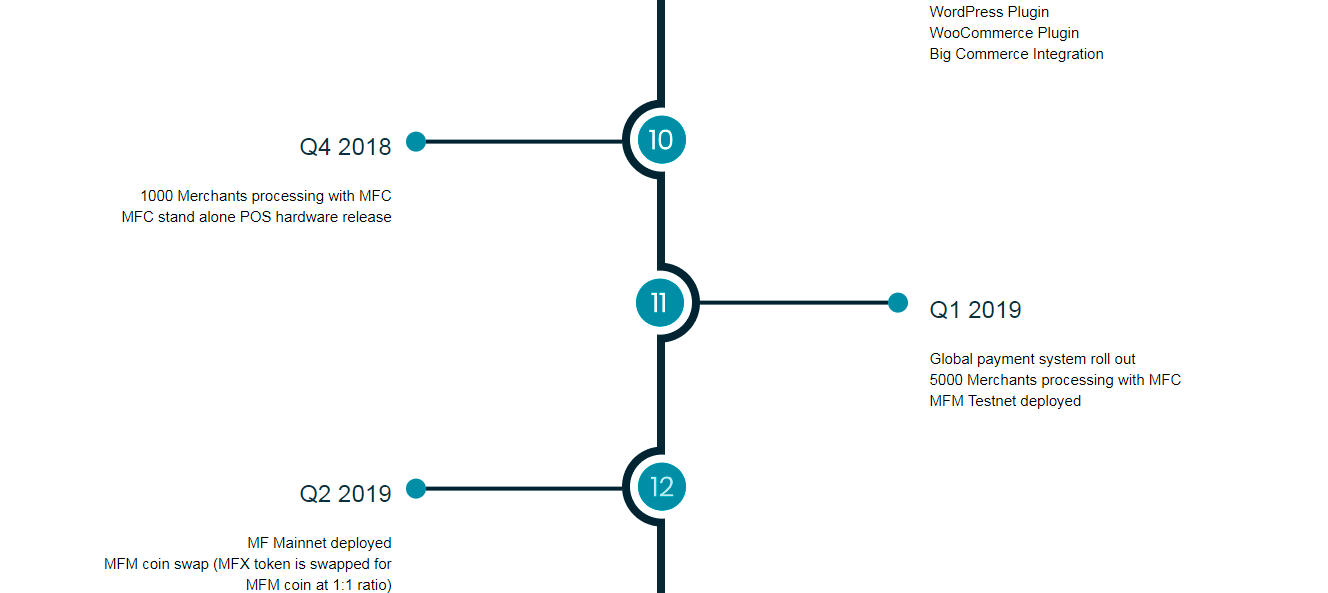 For more Information, kindly check the following links: