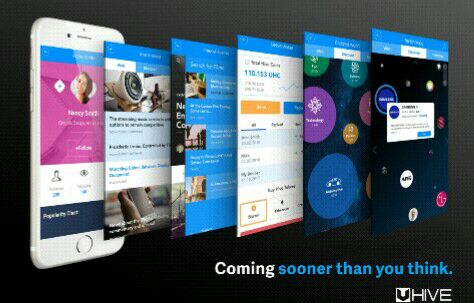 UHIVE Pre-ICO sale launched April 11th
UHIVE Social Network, which is ranked at 4.7/5.0 on ICObench has announced the launch of its Pre-ICO token sale on April 11th, 2018, the UHIVE Token, a new cryptocurrency that actually has value.
What is UHIVE Token:
The UHIVE token will be the mean of all transactions for trade, services & digital assets within UHIVES social network. The network was also designed to reward the users with UHIVE tokens based on their level of engagement; it also offers new digital assets such as the "value of space", your profile's physical location will have an intrinsic value relative to the traffic it generates.

Ten reasons to consider buying UHIVE Tokens:
1. Concept:
A new innovative platform with physical dimension, allowing users to explore spaces in a more intuitive way. Enables users to visually identify trendy topics, communities & businesses organically with their eye sight. UHIVE eliminate the rival's traditional search & discovery methods through keywords and hashtags. The concept was derived by combining human psychology & users cognitive mapping along with block-chain technology.
2. Liberating User Experience:
UHIVE Platform challenges the status quo by providing a dual world with unique experience. "Civilized World", which is common to majority of subscribers with public profiles allowing users to connect with friends, families & businesses. "Grey World", A unique part of the social network which offers uncharted & uncontrolled space to users, where they can create their own space &; become completely anonymous by identity & location; A world that liberates the users experience and opens new chances for users to go wild with their imagination. A world which is completely isolated and secured with a decentralized structure.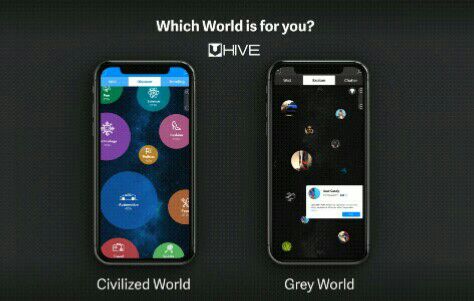 3. V.R Ready:
Taking social networking to the next stage, the UHIVE platform design took into consideration the Virtual Reality community, as it was designed from scratch to support Virtual Reality gear.
4. Adds a new digital asset & marketing dimension to the digital advertising world (Value of Space):
User's spaces are assigned with physical locations within the UHIVE network. The users engagement level & time spent on the app along with other factors make the user space more visible and attractive to other users using visual representation. This creates a new marketing dimensions which creates value for high traffic & famous spaces; Adjacent spaces will be affected as well. Meaning, engagement levels give intrinsic value to spaces.
5. Reduces friction in audience growth for influencer marketing & Businesses:
Spaces for influencers and businesses will be spotted organically by users through visual aids such as size, scale & colors. This generates a cost effective & organic audience growth for spaces eliminating the need to invest thoroughly in Paid Advertising.
6. 6 Billion+ target market:
With an increased active population and a gain in traction on Mobile social networks (forecasted to surpass 6.2 billion users within a year), and with the integration of advanced mobile processors across devices, a growing potential has contributed to UHIVE's development of advanced social network platforms.
7. Self-sustained Economy:
UHIVE was designed to be a completely self-sustained economy, governed by supply & demand. The growth of organic revenue streams is directly proportional to the increase in user subscriptions. Consequently, the UHIVE token value will increase.
The more users there are, the more the value of UHIVE increases.
8. Team:
Backed up by a creative group with diversified skills & years of experience in A.I, Big Data & Platform Architectures with imprinted global success stories.
9. Exponentially grow your portfolio returns:
In case you have missed out on the crypto boom, UHIVE grants you the opportunity to invest small & return huge wins. The UHIVE coin is forecasted to grow from .0015 USD to 2 USD's by the time it reaches 100 million users. Your profit rate should exceed 133333 %.
10. Nobody can afford to miss out on this one of kind opportunity!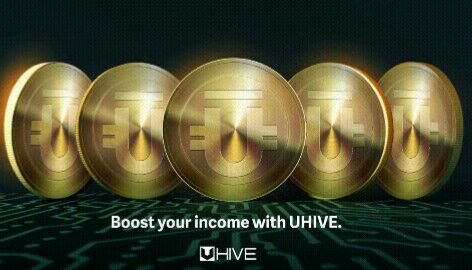 Pre-ICO sale gives you the opportunity to buy at only $0.0015.
Pre-ICO Information:
The pre-ICO stage of the token sale is scheduled to run from April 11, 2018, to April 30th, 2018, with a maximum of 3 Billion Tokens to be sold at $0.0015 per token, which is 50% of the official ICO sales value.
The official crowd sale ICO that will see the token price go up to $0.003 is scheduled to hold between May 2nd, 2018, and July 15th, 2018, offering 17 Billion tokens to the public in the form of 14 Billion Tokens + 3 Billion Bonuses.
The tokens can be bought using Bitcoin, Ethereum, and regular currencies like Euro, and the US Dollars. The process of purchasing the token is quite easy and straightforward; allowing every eligible person to have a stake in what has been the described as the revolution in social networking.
Token: UHIVE (HVE)
Pre-ICO Price: 1 HVE = 0.0015 USD
ICO Price: 1 HVE = 0.003 USD
Bonuses: Available (Visit UHIVE Whitepaper link)
Platform: Ethereum
Accepting: ETH, BTC, Fiat
Minimum investment: 100 USD
Country: United Kingdom
Restricted areas: USA, China